Rigger and Lifting Safety Awareness Training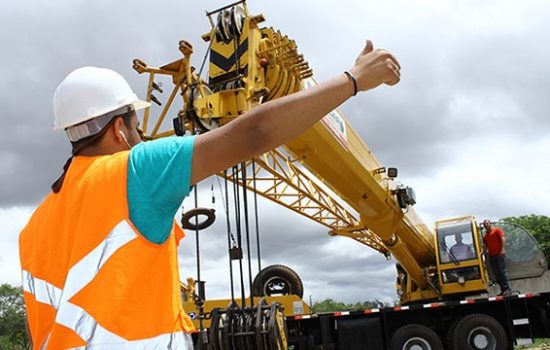 Rigging Safety course will teach you proper rigging practices, including why safe rigging is important, the concept of a safe working load, the safety factor and what is and is not acceptable as rigging material. You will become familiar with types of slings used, hitch methods and responsibilities of a rigger. Etc.
RIGGING AND SLINGING
To train delegates in the principles that support the correct slinging of different types of loads, in the safety precautions to be taken whilst working with rigging equipment, and in the inspection and use of all associated equipment.
LIFTING SUPERVISOR
This course covers the functions required to undertake Lifting Supervisor to meet the minimum formal training and assessment standards for the purposes of certification through Workplace Health and Safety.
LIFTING OPERATIONS- APPOINTED PERSON
This course is suitable for supervisors and managers with responsibility for lifting operations. This course will give you an understanding of the appointed person's responsibilities and how to fulfill them.
Curriculum
• Introduction to Rigging
• Importance of Rigging Safety
• Types of slings
• Lifting Gears
• Common Lapses while Rigging/Slinging
• Rigging Practices
• Rigger's responsibility
• General requirements for rigging
• Identification tags
• Safe Work Load Factor
• Safe use of rigging gear
• Usage of chain block system
• Proper shackle use
• Inspection criteria
• Taglines
• Hand signals
• Types of hitches
• Sling load calculations
• Job site consideration for Rigging/Slinging
Requirements
Minimum education to read, write and speak.
Experience.
Instructor
Inspire Training Academy is one of the premier professional training institutes in Qatar, India, Nepal, UAE,Spain and opening its doors soon in Pakistan and Srilanka. INSPIRE Training Academy is your training partner for Management, Hospitality, Aviation, HSE, Security, Soft Skills, IELTS and APTIS preparation, Corporate trainings, Travel & Tourism, Cyber Security, Maritime, Business and Life Coach, Cargo & Logistics ,IT and MS office and Retail Management.
Related Courses
September 22, 2019 /
Inspire Training Academy Qatar