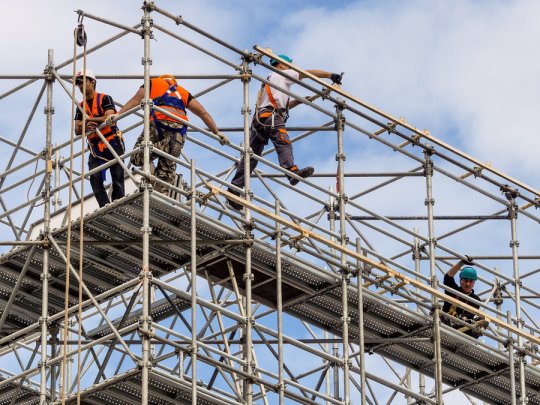 SCAFFOLD SAFETY AWARENESS
Awareness course is for anyone who is working on or around scaffold. This course can be conducted for delegates in any level and serves its purpose to educate about scaffold safety.
SCAFFOLD ERECTION AND DISMANTLING
This course is meant for anyone who is involved in practical Hands-On erection and dismantling of several types of basic frame, tube & coupler, and "system" scaffolds.
SCAFFOLD SUPERVISOR
In accordance with the new standard – all supervisors who erect frame, system or tube and coupler supported scaffolds must be certified. This course covers the safe erecting, use, inspection, modification and dismantling of supported base scaffolds.
SCAFFOLD INSPECTOR
All international standards and QCS regulations require that ALL scaffolds are inspected by a certified "Inspector". This course covers the complete inspection procedures as per international standards.
TEMPORARY WORKS CO-ORDINATOR
This training is done for those who are working on various forms of temporary structures. BS 5975: 2008 + A1: 2011 is used for the training material. Along with this COM Regulations and Codes of Practice are also included in the course.
Instructor
Inspire Training Academy is one of the premier professional training institutes in Qatar, India, Nepal, UAE,Spain and opening its doors soon in Pakistan and Srilanka. INSPIRE Training Academy is your training partner for Management, Hospitality, Aviation, HSE, Security, Soft Skills, IELTS and APTIS preparation, Corporate trainings, Travel & Tourism, Cyber Security, Maritime, Business and Life Coach, Cargo & Logistics ,IT and MS office and Retail Management.