ISO 37001:2016 – Certified Lead Auditor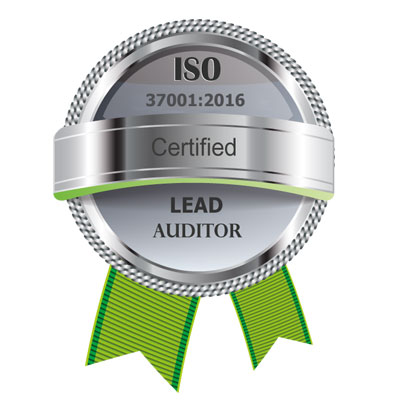 Course Outline:
ISO 37001:2016 certification demonstrates your dedication to implementing and maintaining a compliant and effective anti-bribery management system in support of overarching principled business practices. The ISO 37001:2016 international standard can be applied to distinguish and protect a wide range of organizations of all sizes in both public and private sectors around the world.
An anti-bribery management system is an essential component of a successful organization. Implementing an ISO 37001:2016 anti-bribery management system can demonstrate that an organization has put reasonable and proportionate measures to prevent bribery in place.
It can also prove a commitment to ethical behaviour, which is a vital part of corporate governance in a well-managed organization. This commitment helps an organization enhance its corporate reputation and avoid potentially corrupt transactions.
Corporate commitment to exemplary business ethics is a critical part of any reputable and successful organization. Trust is a powerful tool to build and maintain a positive image with business partners and authorities, as well as consumer confidence.
The Anti-Bribery Management Systems standard conforms with the ISO high-level structure requirements for the management systems.
The key elements of this management system standard are to enable organisations:
to prevent, detect and respond to bribery and comply with anti-bribery laws
to identify and regularly review risks in relation to the threat of bribery
to implement measures to minimise risks
to implement a management system that is reasonable and proportionate to the risks associated with the organisation.
to monitor anti-bribery procedures and ensure they remain effective
Exam Information:
The exam comprises 100 Multiple Choice Questions out of which the candidate needs to score 70% (70 out of 100 correct) to pass the exam.
Exams are online and proctored based, using a webcam and a reliable internet connection exams can be taken anywhere and anytime.
The total duration of the exam is 2 hours (120 Minutes).
No external sources of information may be accessed during the exam held via ProctorU. Further details of the materials permitted are provided:
If a candidate does not pass the exam in the second (2nd) attempt, the candidate must wait for a period of at least fourteen (14) calendar days from the date of their attempt to retake the exam for the third (3rd) time or any subsequent time.
The exam can be taken any number of times.
The ISO 37001:2016 – Certified Lead Auditor Certificate is valid for life.
Displaying your certificate
Remember, when labelling a product or system as certified to an ISO standard:
Don't say: "ISO certified" or "ISO certification"
DO say: "ISO 9001:2008 certified" or "ISO 9001:2008 certification" (for example).
Instructor
Inspire Training Academy is one of the premier professional training institutes in Qatar, India, Nepal, UAE,Spain and opening its doors soon in Pakistan and Srilanka. INSPIRE Training Academy is your training partner for Management, Hospitality, Aviation, HSE, Security, Soft Skills, IELTS and APTIS preparation, Corporate trainings, Travel & Tourism, Cyber Security, Maritime, Business and Life Coach, Cargo & Logistics ,IT and MS office and Retail Management.