Certified Software Manager (CSM)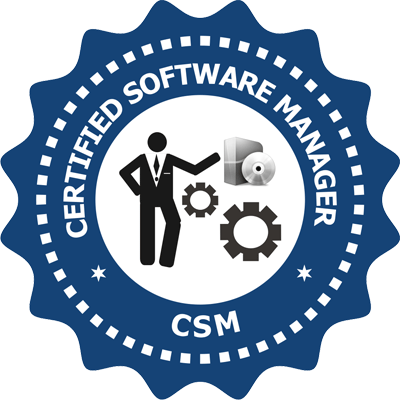 Course Overview:
Certified software manager (CSM)® is a professional designation for IT asset management.
IT asset management (ITAM) is the set of business practices that join financial, contractual and inventory functions to support life cycle management and strategic decision making for the IT environment. Assets include all elements of software and hardware that are found in the business environment.
IT asset management (also called IT inventory management) is an important part of an organization's strategy. It usually involves gathering detailed hardware and software inventory information which is then used to make decisions about hardware and software purchases and redistribution. IT inventory management helps organizations manage their systems more effectively and save time and money by eliminating unnecessary purchases and wasted resources.
Managing information technology is no easy task. You have to comply with software licenses for multiple users, maximize legal use of software, and oversee huge asset inventories etc.
The Certified Software Manager (CSM)® gives you the skills and credentials you need to diagnose, resolve and manage today's complicated software licensing issues. And, this course prepares you to take and pass the exam that earns you the widely-recognized Certified Software Manager (CSM)® professional designation.
Exam Information:
The exam comprises 40 Multiple Choice Questions out of which the candidate needs to score 70% (28 out of 40 correct) to pass the exam.
Exams are online and proctored based, using a webcam and a reliable internet connection exams can be taken anywhere and anytime.
The total duration of the exam is 1 hour (60 Minutes).
No external sources of information may be accessed during the exam via ProctorU. Further details of the materials permitted are provided:
If a candidate does not pass the exam in the second (2nd) attempt, the candidate must wait for a period of at least fourteen (14) calendar days from the date of their attempt to retake the exam for the third (3rd) time or any subsequent time.
The exam can be taken any number of times.
The Certified Software Manager (CSM)® Certificate is valid for life
Instructor
Inspire Training Academy is one of the premier professional training institutes in Qatar, India, Nepal, UAE,Spain and opening its doors soon in Pakistan and Srilanka. INSPIRE Training Academy is your training partner for Management, Hospitality, Aviation, HSE, Security, Soft Skills, IELTS and APTIS preparation, Corporate trainings, Travel & Tourism, Cyber Security, Maritime, Business and Life Coach, Cargo & Logistics ,IT and MS office and Retail Management.