Certified Data Protection and Privacy Manager (CDPPM)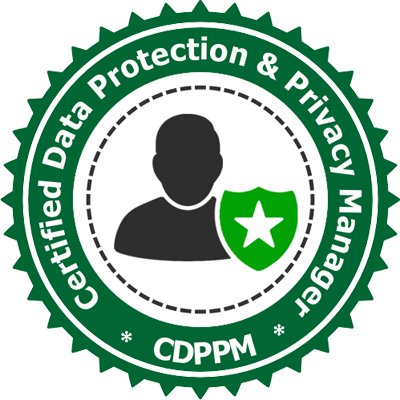 Course Overview:
The Certified Data Protection and Privacy Manager (CDPPM)® designation is the first industry certification that addresses data protection risks with a global and comprehensive approach.
Certified Data Protection and Privacy Manager (CDPPM)® is a comprehensive certification program that leverages international security standards and privacy laws to teach candidates how to protect personal and business data based on risks residing inside or outside of the information systems.
Also, many of the global data security standards and privacy laws overlap to some extent which is addressed cohesively in the comprehensive CDPPM® data protection training program to educate candidates on how to address risks and compliance requirements efficiently. We believe that once CDPPM® candidates understand the data protection risks as well as the risk management processes, they can then leverage the industry best practices and standards to design their data protection strategies and incident management plans based on identified risks that also meet the regulatory requirements.
Successful completion of the CDPPM® Certification demonstrates to employers and others that the candidate possesses a solid knowledge of data protection law, as well as an understanding of the practical implications for organisations of the current legal requirements and the requirements of the upcoming General Data Protection Regulation.
Exam Information:
The exam comprises 50 Multiple Choice Questions out of which the candidate needs to score 70% (35 out of 50 correct) to pass the exam.
Exams are online and proctored based, using a webcam and a reliable internet connection exams can be taken anywhere and anytime.
The total duration of the exam is 1 hour (60 Minutes).
No external sources of information may be accessed during the exam via ProctorU. Further details of the materials permitted are provided:
If a candidate does not pass the exam in the second (2nd) attempt, the candidate must wait for a period of at least fourteen (14) calendar days from the date of their attempt to retake the exam for the third (3rd) time or any subsequent time.
The exam can be taken any number of times.
Certified Data Protection and Privacy Manager (CDPPM)® is valid for life
E-Course Duration: 15 to 20 Hours
Instructor
Inspire Training Academy is one of the premier professional training institutes in Qatar, India, Nepal, UAE,Spain and opening its doors soon in Pakistan and Srilanka. INSPIRE Training Academy is your training partner for Management, Hospitality, Aviation, HSE, Security, Soft Skills, IELTS and APTIS preparation, Corporate trainings, Travel & Tourism, Cyber Security, Maritime, Business and Life Coach, Cargo & Logistics ,IT and MS office and Retail Management.