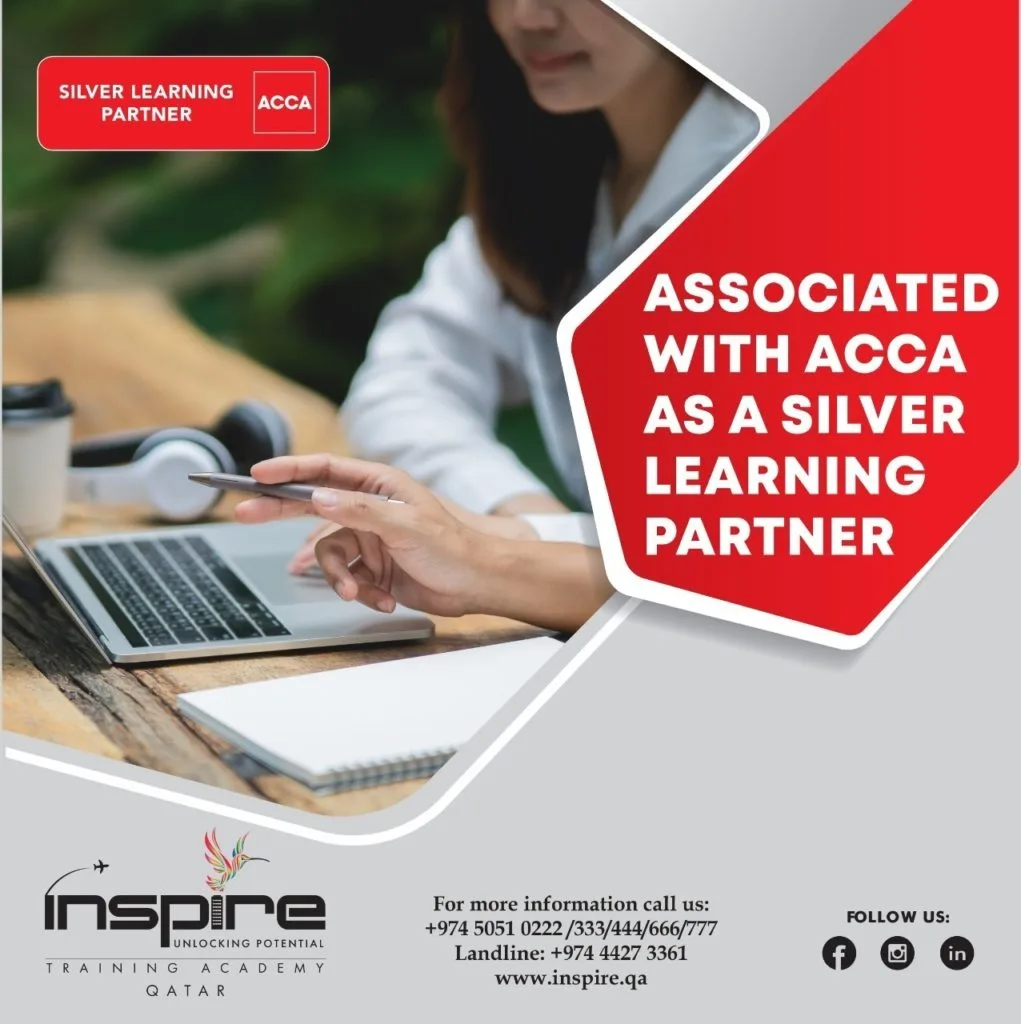 December 20, 2021 – Today, Inspire Management Training Centre and ACCA proudly announce their Silver Partnership which is designed to offer ACCA training courses and certification in Qatar. This partnership will ensure that the respective companies will give their contribution based on their expertise in offering and organizing ACCA training.
"It is my pleasure to announce that ACCA trainings can now be provided by Inspire Management Training Centre. Our partnership with ACCA will make it easier than ever for the costumer to access ACCA trainings. our common pursuit will be a long-term successful journey by providing professional training courses in Qatar to the advancement of the professional careers & learners.
[PARTNER'S PART, Ashish Mishra, CEO, Inspire Management Training Centre]
"It's been my personal mission to provide quality education and training to all our corporate and individual clients. This partnership with ACCA will add a list of globally recognized, verified, and accredited ACCA certified programs to our training offering.
This partnership will solidify Inspire's commitment to quality and global standards by providing the best by the best to our clients."
About ACCA
Founded in 1904, the Association of Chartered Certified Accountants (ACCA) is the global professional accounting body offering the Chartered Certified Accountant qualification (ACCA).
ACCA believe that accountancy is a cornerstone profession of society that supports both the private and public sectors. That's why ACCA are committed to the development of a strong global accountancy profession and the many benefits that this brings to organisations, individuals and society.
ACCA qualifications develop forward-thinking professionals with the financial and business skills essential for the creation of sustainable economies and flourishing societies. Every day, ACCA professional accountants support people and organisations in making sound decisions and doing the right thing. ACCA build public trust by creating an inclusive profession with people from all backgrounds, bound by a common global code of ethics and committed to updating their skills to meet ever-changing needs.
About Inspire Management Training Centre
Inspire Training Academy is one of the premier professional training institutes in Qatar, India, Nepal, UAE, Spain and opening its doors soon in Sri Lanka and Philippines. We offer short-, medium- and long-term educational programs for corporates and individuals in Leadership, Management, Hospitality, Aviation, HSE, Security, People Skills, Sales & Marketing, Banking & Finance, IELTS and Aptis preparation, Travel & Tourism, Cyber Security, Maritime, Business and Life Coaching, Cargo & Logistics, IT skills and Retail Management.
We offer end-to-end consulting services in Learning and Talent Development to suit our clients need. We provide complete business solutions by designing and developing customized Information Systems, like LMS – Learning Management System, ERP- Enterprise Resource Planning, Competency Management System, Compliance Management System, Asset Management System.