Certified Agile Tester – Foundation (CATF)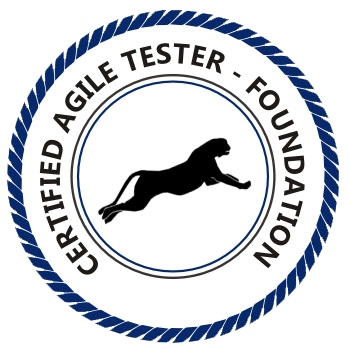 Course Overview
Testing is a fundamental part of any successful project. Agile is flexible and adaptive with frequent feedback loops, far different from the traditional regimented methodologies.
The Agile Testing Foundation certification extends the broad understanding of testing acquired at Foundation Level and covers those topics which are considered to be essential knowledge for a test professional working on agile projects.
The Agile Testing Foundation Certification is suitable for those who are, or expect to be, working on agile projects and is also appropriate for anyone who wants a deeper understanding of agile development that specifically contains coverage of the options for including software testing as an integrated part of the agile development approach. This includes Scrum Masters, project managers, release managers, quality managers, software development managers, business analysts and consultants
Course Duration
Exam Information
Exam Pattern

The exam comprises of 65 Multiple Choice Questions out of which the candidate needs to score 70% (46 out of 65 correct) to pass the exam.

Mode Of Exam

Exams are online and proctored based, using a webcam and a reliable internet connection exams can be taken anywhere and anytime.

Duration Of Exam

The total duration of the exam is 1 hour (60 Minutes).

Closed Book

No external sources of information may be accessed during the exam via ProctorU. Further details of the materials permitted are provided:

Retaking Of Exam

If a candidate does not pass the exam in the second (2nd) attempt, the candidate must wait for a period of at least fourteen (14) calendar days from the date of their attempt to retake the exam for the third (3rd) time or any subsequent time.
The exam can be taken any number of times.

Certification Validity

The Certified Agile Tester Foundation (CATF)™ Certificate is valid for life.

Pre-Requisites

Note: The Certified Agile Tester (CAT)™ – Foundation Certification has no pre-requisites.
Instructor
Inspire Training Academy is one of the premier professional training institutes in Qatar, India, Nepal, UAE,Spain and opening its doors soon in Pakistan and Srilanka. INSPIRE Training Academy is your training partner for Management, Hospitality, Aviation, HSE, Security, Soft Skills, IELTS and APTIS preparation, Corporate trainings, Travel & Tourism, Cyber Security, Maritime, Business and Life Coach, Cargo & Logistics ,IT and MS office and Retail Management.