Certified Agile Scrum Product Owner (CASPO)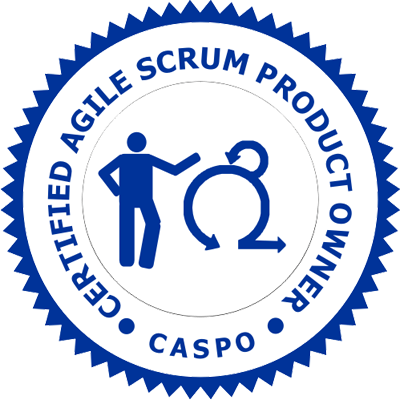 Course Overview
The Product Owner (PO) is the member of the Agile Team who serves as the Customer proxy and is responsible for working with Product Management and other stakeholders – including other Product Owners to define and prioritize stories in the Team Backlog so that the Solution effectively addresses program priorities (Features/Enablers) while maintaining technical integrity. Ideally, the Product Owner is collocated with the rest of the team, where they typically share management, incentives, and culture. But Product Owner also attends most relevant Product Management meetings about planning and backlog in/vision refinement.
The Certified Scrum Agile Scrum Product Owner (CASPO)® Certification deals with using the Scrum product backlog as a tool for project success. As a Certified Agile Scrum Product Owner (CASPO)®, you'll watch the product take shape, iteration after iteration and you'll be able to know how to respond to changes in business conditions by restructuring the product backlog. You have to also identify and cancel unsuccessful projects early, often within the first several months. This Certification helps you with what you need to achieve success with the agile practice of Agile & Scrum.
To get the product owner's responsibilities right, start by asking what the individual owns. Is it a product, a feature, or a component? While this may sound like a trivial question, it can be tricky to answer it: I have seen a number of companies where people did not have a shared understanding of what a product is. As a consequence, there was no clear and common definition of product roles and responsibilities, and people looking after components or features were confusingly called product owners.
Course Duration
Exam Information
Exam Pattern

The exam comprises of 40 Multiple Choice Questions out of which the candidate needs to score 70% (28 out of 40 correct) to pass the exam.

Mode Of Exam

Exams are online and proctored based, using a webcam and a reliable internet connection exams can be taken anywhere and anytime.

Duration Of Exam

The total duration of the exam is 1 hour (60 Minutes).

Closed Book

No external sources of information may be accessed during the exam via ProctorU. Further details of the materials permitted are provided:

Retaking Of Exam

If a candidate does not pass the exam in the second (2nd) attempt, the candidate must wait for a period of at least fourteen (14) calendar days from the date of their attempt to retake the exam for the third (3rd) time or any subsequent time.
The exam can be taken any number of times.

Certification Validity

The Certified Agile Scrum Product Owner (CASPO)® is valid for life.

Pre-Requisites

Note: The Certified Agile Scrum Product Owner (CASPO)® Certification has no pre-requisites.
Instructor
Inspire Training Academy is one of the premier professional training institutes in Qatar, India, Nepal, UAE,Spain and opening its doors soon in Pakistan and Srilanka. INSPIRE Training Academy is your training partner for Management, Hospitality, Aviation, HSE, Security, Soft Skills, IELTS and APTIS preparation, Corporate trainings, Travel & Tourism, Cyber Security, Maritime, Business and Life Coach, Cargo & Logistics ,IT and MS office and Retail Management.