ISO / IEC 20000 ITSM – Foundation Certificate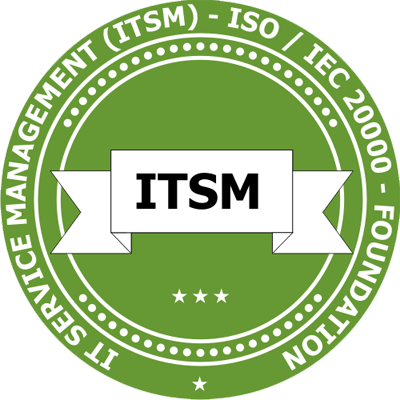 Course Overview:
Based on typical operational and tactical roles in organizations seeking ISO/IEC 20000 certification, you will acquire detailed implementation-oriented knowledge of the standard. Real-life examples will familiarise you with the daily requirements to be fulfilled by the various roles and enable you to satisfy these requirements by preparing process descriptions and the required documentation and by applying tools that proved their worth in practice.
IT Service Management (ITSM) is defined as a process-based practice intended to align the delivery of information technology (IT) services with the needs of the business, which emphasizes benefits to customers. While the process at its core concerns technology, this focus on the client is key.
Exam Information:
The Exam contains 40 Multiple Choice Questions and you must correctly answer 28 (28 out of 40 correct) to pass the exam.
Exams are online and proctored based, using a webcam and a reliable internet connection exams can be taken anywhere and anytime.
The total duration of the exam is 1 hour (60 Minutes).
No external sources of information may be accessed during the exam held via ProctorU. Further details of the materials permitted are provided:
If a candidate does not pass the exam in the first (1st) attempt, the candidate must wait for a period of at least seven (7) calendar days from the date of their attempt to retake the exam for the second (2nd) time or any subsequent time. The exam can be taken any number of time
IT Service Management (ITSM) – ISO / IEC 20000 Foundation Certificate is valid for life.

Displaying your certificate

Remember, when labelling a product or system as certified to an ISO standard:
Don't say: "ISO certified" or "ISO certification"
DO say: "ISO 9001:2008 certified" or "ISO 9001:2008 certification" (for example).
Instructor
Inspire Training Academy is one of the premier professional training institutes in Qatar, India, Nepal, UAE,Spain and opening its doors soon in Pakistan and Srilanka. INSPIRE Training Academy is your training partner for Management, Hospitality, Aviation, HSE, Security, Soft Skills, IELTS and APTIS preparation, Corporate trainings, Travel & Tourism, Cyber Security, Maritime, Business and Life Coach, Cargo & Logistics ,IT and MS office and Retail Management.