Certified General Manager (CGM)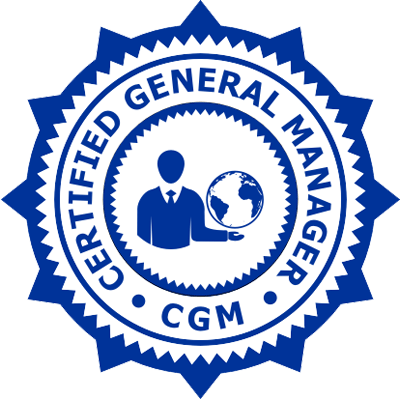 Course Overview:
General Management studies help in understanding the managerial, functional and operational demands of commercial organizations to trigger production effectively and efficiently. This subject extensively covers several topics on marketing, investment, functional administration, human resource, sales, advertising etc. Imbibing the core tenets of this module will enable transformation into an effective business manager to understand the nuances of optimizing capital growth.
General Management and further develops the key concepts, principles and practices of management that will enable learners to lead, manage, organise and control first-line managers and team leaders.
The learners will typically be managers who have other junior managers or team leaders reporting to them. In smaller organisations or entities, the managers could primarily be responsible for managing the supervisors and staff within their section, division or business unit
The scope of generic management covers five domains: leadership, managing the environment, managing relations, managing knowledge and the practice of management. This Certification addresses each of these domains with generic competencies so that it allows learning programmes to be contextualized for specific sectors and industries.
Certified General Manager (CGM)® Certification provides opportunities for learners to transfer between various specializations within management. This leads to the strengthening of management competencies and will enable managers at this level to manage successfully systems, processes, resources, managers, and teams in their various occupations and contexts.
This qualification is further intended to empower learners to acquire the knowledge, skills, attitudes and values required to operate confidently as individuals in international communities and to respond to the challenging economic environment and constantly changing world of work.
Ultimately, this qualification is aimed at improving the effectiveness and leadership abilities of middle managers in various occupations globally, in private and public business entities as well as non-governmental organisations. For this reason, the word 'entity' includes a company, business unit, public institution, small business or non-profit organisation.
Exam Information:
The exam comprises 100 Multiple Choice Questions out of which the candidate needs to score 75% (75 out of 100 correct) to pass the exam.
Exams are online and proctored based, using a webcam and a reliable internet connection exams can be taken anywhere and anytime.
The total duration of the exam is 2 hours (120 Minutes).
No external sources of information may be accessed during the exam held via ProctorU. Further details of the materials permitted are provided:
If a candidate does not pass the exam in the second (2nd) attempt, the candidate must wait for a period of at least fourteen (14) calendar days from the date of their attempt to retake the exam for the third (3rd) time or any subsequent time.
The exam can be taken any number of times.
The Certified General Manager (CGM)® Certificate is valid for life.
Instructor
Inspire Training Academy is one of the premier professional training institutes in Qatar, India, Nepal, UAE,Spain and opening its doors soon in Pakistan and Srilanka. INSPIRE Training Academy is your training partner for Management, Hospitality, Aviation, HSE, Security, Soft Skills, IELTS and APTIS preparation, Corporate trainings, Travel & Tourism, Cyber Security, Maritime, Business and Life Coach, Cargo & Logistics ,IT and MS office and Retail Management.