MANAGING HOUSEKEEPING OPERATIONS, Revised 3rd Edition
Inspire Training Academy, Qatar
The best professional training centre at Qatar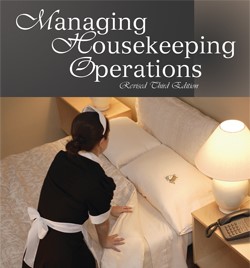 Course Description
This course is designed to provide students with the principles of housekeeping management as
they apply specifically to the hospitality industry.
Objectives
At the completion of this course, students should be able to:
1. Identify the role of housekeeping in a hospitality operation.
2. Explain how to follow environmentally sound procedures for sustainable housekeeping.
3. Describe how to plan and organize the work of the hospitality housekeeping department.
4. Explain the role executive housekeepers play in managing such human resource concerns as diversity,
turnover, recruitment,selection, training,scheduling, and motivation.
5. Explain how to manage inventories for linens, uniforms, guest loan items, machines and equipment, cleaning
supplies, and guest supplies.
6. Describe how an executive housekeeper budgets and controls expenses.
7. Identify important security concerns and the role that the members of the housekeeping department play in
creating a safe and secure property.
8. Trace the flow of laundry through an on-premises laundry and describe the function of each machine.
9. Describe the routine of guestroom cleaning from room assignments through inspections and turndown service.
10. List the public space areas that the housekeeping department is responsible for cleaning and the tasks
associated with each one.
11. List the types of materials used for ceilings, walls, furniture, and fixtures and how to properly care for them.
12. Describe the selection and care considerations for beds, linens, and uniforms.
13. Explain the proper ways to clean and maintain different types of carpeting and floors.
14. Identify major areas of a guest bathroom and how to select and care for each element.
FAQs
This course is designed with fourteen chapter sessions that can be combined or broken down to meet a variety of scheduling needs. Class activities are included in the Instructor's Guide.
The student must complete a comprehensive final examination.
: Managing Housekeeping Operations, Revised Third Edition, by Aleta A. Nitschke and William D. Frye
Instructor
Inspire Training Academy is one of the premier professional training institutes in Qatar, India, Nepal, UAE,Spain and opening its doors soon in Pakistan and Srilanka. INSPIRE Training Academy is your training partner for Management, Hospitality, Aviation, HSE, Security, Soft Skills, IELTS and APTIS preparation, Corporate trainings, Travel & Tourism, Cyber Security, Maritime, Business and Life Coach, Cargo & Logistics ,IT and MS office and Retail Management.