Certified Digital Marketing Professional (CDMP)
Inspire Training Academy, Qatar
The best professional training centre at Qatar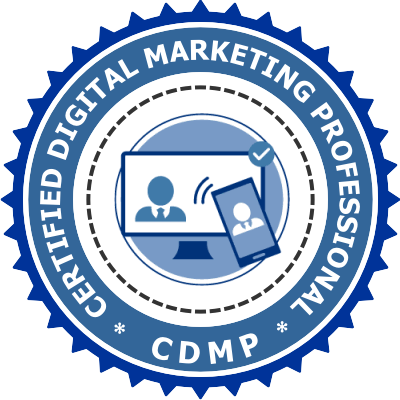 Course Overview:
The Certified Digital Marketing Professional (CDMP)® Certification ensures you understand the fundamentals of digital marketing along with a specialist program of your choice – social media, search or strategy and planning.
Becoming a Certified Digital Marketing Professional (CDMP)® will ensure you are equipped with the tools and skills needed to create a cohesive, effective digital marketing strategy. There are ten comprehensive modules that cover all the disciplines involved in best practice digital marketing.
Businesses and recruiters prefer marketing professionals with genuine knowledge, skills and experience verified by a certification that is accepted across industries. Continuous learning for any working professional is not only important for keeping themselves up to date with the current market trends, but it also helps them expand their array of skill sets and become more flexible in the workplace.
This digital marketing course will not only help learners stand out and polish their existing skillset in the marketing domain, but it will also help them take that necessary leap to bigger and more ambitious roles.
E-Course Duration: 20 to 25 Hours
Exam Information:
The exam comprises 100 Multiple Choice Questions out of which the candidate needs to score 70% (70 out of 100 correct) to pass the exam.
Exams are online and proctored based, using a webcam and a reliable internet connection exams can be taken anywhere and anytime.
The total duration of the exam is 2 hours (120 Minutes).
No external sources of information may be accessed during the exam held via ProctorU. Further details of the materials permitted are provided:
If a candidate does not pass the exam in the second (2nd) attempt, the candidate must wait for a period of at least fourteen (14) calendar days from the date of their attempt to retake the exam for the third (3rd) time or any subsequent time.
The exam can be taken any number of times.
The Certified Digital Marketing Professional (CDMP)® Certificate is valid for life.
Instructor
Inspire Training Academy is one of the premier professional training institutes in Qatar, India, Nepal, UAE,Spain and opening its doors soon in Pakistan and Srilanka. INSPIRE Training Academy is your training partner for Management, Hospitality, Aviation, HSE, Security, Soft Skills, IELTS and APTIS preparation, Corporate trainings, Travel & Tourism, Cyber Security, Maritime, Business and Life Coach, Cargo & Logistics ,IT and MS office and Retail Management.